Things Which Must Stop (Before They Even Really Get Started)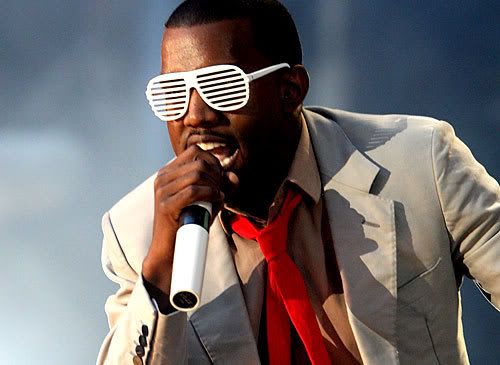 These Glasses
Just because Kanye does it, don't make it right. When I look out my venetian blinds in the morning, you know what I don't think? 'Hey, I wanna see like this all the time!' What useful purpose do these glasses serve? They're the kinds of things that you get in a christmas cracker (albeit, a huge one) and throw out on Boxing Day because you realise they're shit. So far, I have seen two people wearing these on the streets of Toronto and I felt an overwhelming urge to lash out. So I would say for the safety of everyone in the city, it's best that no one else even attempts to wear these.
Socks and Crocs
Come on people. Do I really have to go over this again? We have already established that Crocs are the devil's work. There is nothing to be done. They are beyond redemption. We know this. So why are some people trying to accessorize that shit? Socks with the crocs? I saw some woman rocking this a couple of weeks ago and damn near puked all over myself. Why would anyone think that is anywhere near appropriate. Must I remind you that we live in a CITY, a very cosmopolitan city at that? So, if you're a woman and you don't want to leave your house in stilettos or a fashionable flat, you should really stay your ass in the suburbs. But seriously, don't ever go to the downtown core of one of the biggest cities in North America rockin' socks and crocs. What the hell is wrong with you? I cannot single handedly elevate Toronto to 'Fashion Capital' status (though Lord knows, I'm trying) – a little help here people!
Over the Top Wimbledon Fashions
Oh Serena, this is a tad much, non? Who do you think you are? Me? This is totally what I would wear if I was ready to destroy the competition at Wimbledon. The only difference is, I would not actually play and ruin a perfectly good outfit with perspiration. It's a sin. I'm all for showing a bit of flair for style at your work place, but you may as well be wearing stilettos out there for all the good the trench coat's doing you (and yes, I totally would wear stilettos on centre court, but that's not the (match) point). Just throw on some Nikes, a sports bra and one of those little pleated skirts and hit a ball around already.
Related posts:
Tags: crocs, kanye west, wimbledon