Introducing…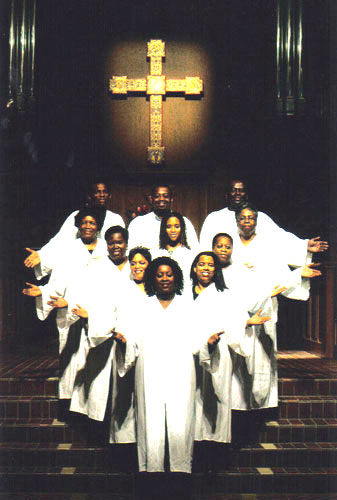 Ever feel like there's moments in life where you're own words just aren't enough and you need a little more power? Is there something lacking when you're experiencing moments of joy, anger, frustration or elation? Then may I present to you, the Pocket Gospel Choir.
The Pocket Gospel Choir can be whipped out anytime, anywhere, for your convenience. It's particularly handy when you want to cuss someone out. Sure, they may seem strange due to their Jesus-lovin' tendencies and all, but even Jesus got mad sometimes. The Pocket Gospel Choir can add strength to your cuss like you wouldn't believe. You can program them to back you up on certain phrases or to just freestyle. For example, when giving your boss a piece of your mind, you might throw out a phrase like:
"You're an ignorant, incompetent wanker."
And the Pocket Gospel Choir will pop up and chime in:
"Yes. She called you a waaaaaanker. Oooooohhhhh yes!" Then do some steady "Oooohhhh, ahhhhhhh"s and when the altercation is over, they'll bust out some soul claps for good measure.
When you're looking to make someone feel guilty or upset – Pocket Gospel Choir is a dream come true. I challenge you to not get choked up when you hear the harmonies crescendo into an ultra power moment.
Just got your tax return cheque? How about a verse and a chorus of Oh Happy Day?
Imagine being at the gym and lagging some energy – just break out the Pocket Gospel Choir to give you some musical accompaniment and egg you on.
The possibilities are endless. Turn every moment into a Power Moment.
The Pocket Gospel Choir can be yours for just $19.99 plus shipping and handling (what? Jesus ain't free bitches!)
Related posts:
Tags: jesus, the vault of great ideas, useful tools for life