Infomercial Heaven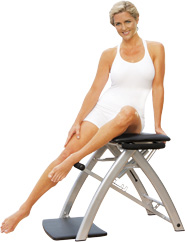 Last week, I did something that made me feel dirty and ashamed. And quite frankly, I liked it. I ordered something from an informercial.
*cue tumbleweeds*
No seriously. I did. I know you're all thinking "But Bangs, you're the very bastion of good taste and all things good and right with the world." And I am that. But you know, sometimes, we all have weak moments.
Mine came as I came to, out of an intense snooze, having fallen asleep with the television on. I awoke at 3am to the infomerical bliss that is, Malibu Pilates. I rubbed my eyes and focused in a little more. Slowly I felt it beginning to suck me in. You mean to tell me, I can work out while sitting down? Ummm….SOLD! And for $14.95, plus shipping and handling? Hot damn! Before I even knew what I was doing, I had my computer on and my credit card out. Turns out, it's actually way more expensive when you buy it in Canada, but, did you not hear me, bitches? You can work out sitting down. That shit is priceless.
And how about the next day delivery? By the time I got home from work the next day, I was ready to get my Malibu Pilates on. Well, not quite ready. I had to unpack the thing and get it out of all that Godforsaken plastic wrapping and do a little bit of self-assembly (which was a work out in itself), but then I was ready. I put on one of the three work out DVDs that came with it (oh, you want one. Admit it) and got down to the work out. It's the work out I like to call '20 Minutes of Awesomeness.' They use the term 'engage your powerhouse' several times. I don't even know if I have a powerhouse, but I'm loving this shit!
So, judge me all you want, but you best believe that the highlight of my day henceforth (or at least until the weather is nice enough for me to ride my bike again), will be the '20 Minutes of Awesomeness.'
But fear not, this won't lead to a slippery slope of infomercial purchasing from me. I mean, as impressed as I am with the mythical absorbing powers of the Shamwow, I can't see myself needing to get one.
I mean, for starters, who is this Vince guy, why should I care and why the hell is he rocking it out like he's in the Rhythm Nation with that mic? And, show of hands: who's spending $20 a month on paper towels? What kind of shit are you spilling in your house that requires $20 worth of paper towel to clean it up?
Though, I may need to drag a truck somewhere one of these days, so I may just have to get myself some of that Mighty Putty.
Related posts:
Tags: fitness, infomercials, shopping